Every little place is known to have its own little charm and fun techniques which keeps them engaged and completely rooted to their location and tradition. Like the Canadians are known to be crazy about their Hockey, or the Indian's or Britishers are known to be crazy about their Cricket, similarly in the local Himalayan regions of India people have found a new sport to keep them completely glued to their location and tradition- the Ice Hockey. The weather is completely favorable there to play this sport beautifully and have fun. This game if famous there amongst all age groups.
It is mostly played in the region of Sikkim and Darjeeling, along with various other places like Leh Ladakh in the Kashmir region. It is also common in various places in the belt of Himachal Pradesh and Uttaranchal especially near Auli and Joshimath. It is also common in the North-East region of India. During summers, even though the climate is pretty cool, the snow thaw which doesn't give them any chance to play ice hockey during these months of March to June. During these months the local beauty of the region is at its peak and people tend to kill time and continue to remain in practice only by playing regular hockey in their respective hockey grounds or stadiums. Due to such climate issues, the government has also proposed setting up indoor ice hockey stadiums in places of high tourist's attractions such as Leh Ladakh and Gangtok in Sikkim. Thus, people can continue to enjoy this wonderful game even during the off-season months.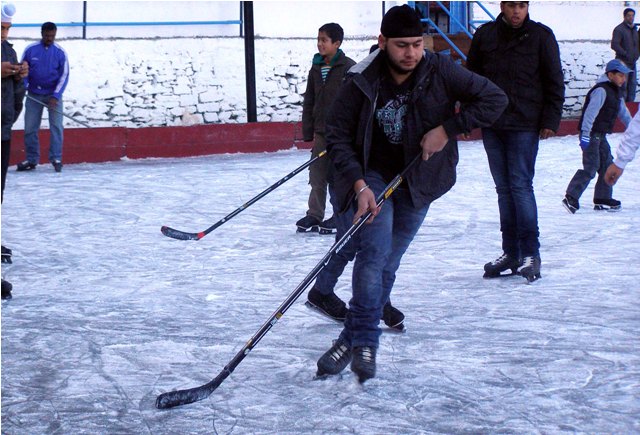 It is during these major months that more and more visitors from all over the world flock the region completely as the climate is tolerable for them. Thus, they are also intrigued completely by this wonderful sport and try a hand at it for fun. Some of the professional ice hockey players during these tourist months also teach ice hockey to the travelers and in turn make a few bucks for themselves. The tourists seem to enjoy this game thoroughly. One has to be really daring to learn this sport, because initially one can slip on the huge pile of ice time and again. One also requires having a great sense of concentration before playing of this game as it helps you target and block the ball easily. The protective wear during this game is also of much importance as it helps you from getting hurt in any form or in any way.
Thus, tourists travelling to various famous locations in the Himalayan region of India can learn this game and also enjoy it thoroughly with the help of all the professional ice-hockey players available there and carry fond memories of this back with them.