Pushkar is the only place in India, where temple of Lord Brahma is situated. Lord Brahma is known as the creator of world. With temples, palaces, royalty, forts and Holy River, it attracts lot of visitors and pilgrims who tours to India every year.
Apart from temple, the other famous attraction of the place is Pushkar Desert Festival that gives amazing experience to the tourist from across the world. This festival is held during the winter season which is calculated according to lunar movements that falls in the end of the starting of the year.
Du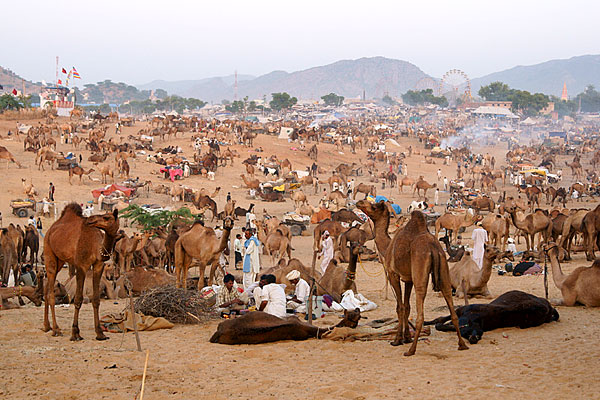 ring this festival, all the saints and mortals come together to take holy dip in the sacred river. Also, festival for the famed cattle and camel fairs is held here.
Pushkar Desert festivals also consist of sports that are played during the fair. Pushkar festival has numerous enthralling events that are the main attractions of the festival. Once you visit the place you are assured that you will never want to leave the place. The rich culture and traditional festival comprises of folk dance and songs by the artisans who showcases the vivid heritage of the state that has been kept alive by them. Apart from this, the exotic dishes of the state like dal-bati churma are highly relishing.
With immense popularity of Pushkar Desert festival many tourists come forth to visit the city especially during the festival time. There are several travel agents who give out lucrative offers and plan to visit the city according to the tourists and helps in saving lot of money as well. The religiously inclined place situated next to the revered Pushkar Lake that offers ultimate scenic beauty to the travellers in Rajasthan.
During the Pushkar desert festival the monochrome desert gets filled with extravagant and vibrancy. To have the unrestrained enjoyment and celebrate merriness in full swing this festival brings joy in your life that lingers in your mind for a long time! Here, you get the best combination of religious and social holiday which indulges you utterly.
In the Pushkar camel festivals several camels from across the state come decorated with bells, fabrics and adoration. The performances of the camels attract and entertain the tourist at large. It is one of the most well-known fair and remarkable events that are held every year. The races of donkey, camel and horse are the significant attraction of the place. At no cost should one leave the opportunity to visit such a wonderful festival in their lifetime!